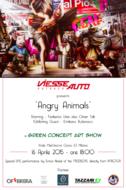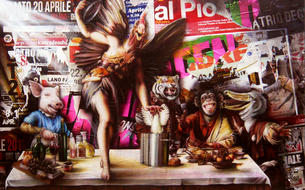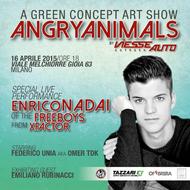 Viesse Auto & Offbrera present...
ANGRY ANIMALS
Starring : Federico Unia aka Omer Tdk
Exhibiting Guest : Emiliano Rubinacci
a green concept art show!

At 18:00 pass by the VIESSE AUTO showroom (Viale Melchiorre Gioia, 63 Milano) and enjoy the Green Concept Art exhibit by renown artist Federico Unia in collaboration with Emiliano Rubinacci.
Federico and Emiliano depict various animals as their human counterparts. Miss-treating the Earth and the humans around them, these animals portray the opposite of what realty really is. This is a PRO-animals and PRO-life event!
Come join us!
Enjoy a light refreshment and cooking show offered by the Osteria Del Generale Italy and listen to the fine tunes of DJ Francesco Galli, from Milan's hottest clubs!
As a special treat, there will be an EXCLUSIVE live performance from Enrico Nadai of the Freeboys, a group know through their participation in Italy's most followed tv shows, Io Canto and X Factor!
Don't miss it!