HOMI, The Lifestyle Trade Fair (15-18 September 2017) at Fiera Milano tells about the styles and multiple dimensions of the objects for the home and the person. It is an innovative fair format and an incubator of trends in the fields it refers to: from home and table decoration – for interiors and outdoor spaces – to essences and fragrances to the textile industry, from the many dimensions of beauty with bijoux and fashion accessories up to the solutions for spaces dedicated to children. Several areas are dedicated to research and experimentation, among which the project HOMI SMART: developed in collaboration with IDLAB, it is an experimental format connecting schools, startups, companies and designers between analogue and digital.

This year HOMI will be present at Fuorisalone within BASE MILANO (Tortona Design Week); on this occasion we interviewed the Event Director Cristian Preiata.

Why did HOMI decide to take part in the Fuorisalone?

It is an occasion of great visibility, a very important opportunity to meet a target of customers particularly interested in design, to which HOMI is getting closer and closer and is increasingly connected.

Obviously HOMI will keep its main vocation as design trade fair, but this doesn't stop us from exploring new paths to let people know our proposals and peculiarities, especially when it comes to events taking place in Milan.
Our dialogue in the territory is very strong: as a matter of fact, besides the event taking place twice a year at fieramilano and addressing sector operators, we have long been organising exhibitions and events in Milan also targeting the general public.

How will you be present within BASE MILANO?

We are included in the calendar of events of the Tortona Design Week within the exhibition project Design Nomade, that explores the new scenarios of nomadic living: hybrid and flexible spaces between living, recreational and work spaces, home, office, laboratory, lounge and home-theatre all together. Nomadic, quick, interconnected and always portable objects. The presence of HOMI will be part of this context with the experimental format HOMI SMART, dedicated to crossover between design and new technologies.

By walking through the exhibition space, the visitors will be able to explore immersive scenarios and enter a new dimension of style where they will find prototypes, projects, ideas designed for those who love moving. Within the exhibition Design Nomade, HOMI SMART will be a workshop based on the idea of informal exchange and debate allowing to communicate products in a brand-new way.

You are a fair, but during the design week you will work outside the fair, what do you think are the most important differences between the two exhibition methods?

The event mainly addresses a B2B target (retailers, big buyers, businessmen, department stores) while with this experience HOMI proposes itself to a wider audience specifically interested in the design world, a very hot topic for HOMI.

The story changes and on this occasion it gains new aspects and purposes, focusing on an exhibition method based on the idea of informal exchange and debate.

Among the various events on schedule is the Creative Marathon organised by Galli Academy – IED Como and the presence of Orwell, Milan-based society specialising in the production of virtual reality contents that will propose an immersive experience: this is the HOMI SMART Sculpture Experience, where people will be able to sculpt their bust in a trip through virtual reality.

© Fuorisalone.it — All rights reserved.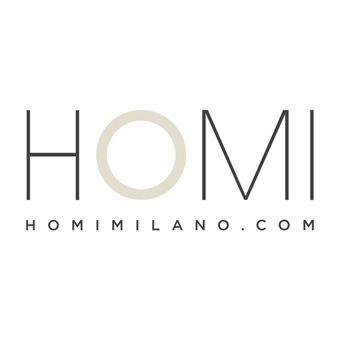 HOMI SMART c/o BASE Milano - Via Bergognone, 34


Scopri l'evento correlato all'articolo