Itinerary
Brera Design District
Area: Brera
The most important district in Italy for the promotion of design, an international reference point, and a centre of creative development.
"Progettare è un gioco, giocare un progetto"
Brera Design District 2017 propone un tema, il premio Lezioni di Design, una serie di incontri, progetti speciali e iniziative culturali.
Quest'anno sono ambasciatori di Brera Design District: Tony Chambers Editor-in-Chief di Wallpaper, l'Arch. Michele De Lucchi e le designer Arianna Lelli Mami e Chiara Di Pinto di Studiopepe.
Per Michele De Lucchi «Brera ha il fascino del distretto artistico di Milano e possiede una personalità un po' parigina, bohémien. Quando si passeggia per le sue strade, soprattutto in aprile durante il Fuorisalone, si respira un'atmosfera stravagante, giovane e internazionale».
Per Arianna Lelli Mami e Chiara Di Pinto di Studiopepe «Brera è un luogo icona. È sempre stato il luogo bohémien di Milano per eccellenza, in cui si respira quell'atmosfera artsy, grazie anche all'Accademia e agli studi di fotografi e pittori. Ora Brera è sempre più legata al design e questo passaggio troviamo che abbia rispettato l'anima creativa e speciale del quartiere, anzi ha portato una nuova linfa».
Il tema dell'edizione 2017 di Brera Design District è Progettare è un gioco, giocare un progetto. Nasce dell'esperienza maturata con i Brera Design Days, evento organizzato da Studiolabo e Brera Design District. Dal 1° al 9 ottobre 2016 si è discusso su tematiche trasversali al mondo del design e della progettazione, tra cui: grafica, ibridazione, interaction design e gamification. Il successo di quest'ultimo argomento ha ispirato una riflessione sulla pratica del gioco come occasione di progettualità, in particolare sull'importanza che la gamification può assumere nel design dei servizi e nelle dinamiche di interazione e tra marca e cliente.
Il tema è una citazione di Bruno Munari e rimanda al suo approccio progettuale. Munari ha lavorato molto sui concetti di gioco e giocattolo e in Da cosa nasce cosa scrive: «Bisognerebbe fare anche alcuni giocattoli didattici per adulti, per rimuovere dei preconcetti, per far fare ginnastica alla mente, per liberare energie nascoste».
Il premio Lezioni di Design 2017 viene attribuito a Fabio Viola: stabilmente tra i TOP 10 gamification designer al mondo, coordina il corso di alta formazione in Gamification ed Engagement Design per IED Milano. Autore del libro Gamification - I Videogiochi nella Vita Quotidiana e di Coinvolgimi in uscita per Hoepli, ha lavorato per multinazionali come Electronic Arts Mobile e Vivendi Games e negli ultimi anni ha iniziato a lavorare sulla intersezione tra gioco e vita quotidiana supportando enti pubblici, istituzioni culturali e grandi aziende.
La notte bianca del quartiere, la Brera Design Night si svolgerà venerdì 7 aprile con l'apertura prolungata degli showroom e una serie di eventi speciali che animeranno il distretto.
PROGETTI SPECIALI:
HomeAway è Official Accommodation Partner di Brera Design District perché condivide con la manifestazione lo stesso spirito di innovazione e internazionalità.
Timberland lancia la nuova Boat Shoe che si caratterizza per la flessibilità della suola grazie alla tecnologia SensorFlex. Grazie alla collaborazione con il designer Matteo Cibic nasce l'installazione The Flexibile Living.
Tissot racconta il tempo dell'innovazione attraverso le parole e l'esperienza del designer Giulio Iacchetti, nel rapporto tra artigianalità e design i cui princìpi rispecchiano perfettamente i valori del brand.
Jaguar F-PACE è Official Courtesy Car di Brera Design District. Design, eleganza, performance. L'esperienza lascia sempre il segno.
The Visit è un appartamento in via Palermo 1 allestito da Studiopepe per celebrare il rito della visita, proponendo un'esperienza che narra storie, stili, e ricerche in una certa atmosfera milanese. Visitabile solo su appuntamento.
Brera Design District diventa una cartolina grazie all'app gratuita Artwalks. Camminando per Brera durante il Fuorisalone sarà possibile creare cartoline personalizzate da inviare e condividere sui canali social.
Brera Design District - by Sky Arte
Society Limonta, il fascino dell'imperfezione - by Sky Arte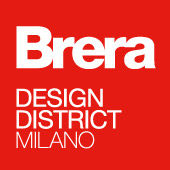 VAI AL SITO
Brera Design District è un progetto di Studiolabo.
contatti:
Brera Design District
Studiolabo
Via Palermo 1
20121
Milano

www.breradesigndistrict.it
info@breradesigndistrict.it
Tel. 02 36638150