A research of the elements that generate its architecture: space, time, light, color and materials.
During Fuorisalone 2018 Steven Holl, the New York-based American architect, in collaboration with Galleria Antonia Jannone, will present: One Two Five, curated by Marco Sammicheli, from the 18th April to the 3rd June in the iconic Brera Design District. A unique opportunity to appreciate the design poetics of the great American architect. A research of the elements that generate its architecture: space, time, light, color and materials.
We had the opportunity to talk to him about his work, his philosophy and his exhibition for the next Milan Design Week.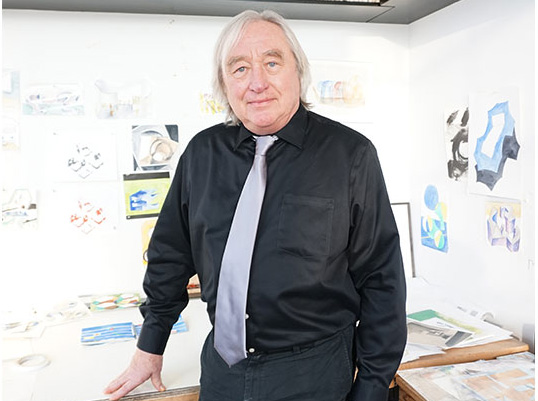 How did you discover your passion?

The love of making things has always been a childhood passion.

What were the key steps in your career?
a. Childhood drawings, painting buildings
b. University of Washington, Architecture Rome Studies and Professors Hermann Pundt and Astra Zarina, 1970
c. Graduate Studies: Architecture Association London, 1976 with Elia Zenghelis, Rem Koolhaas, and Zaha Hadid
d. Moving to New York City, 1977
e. MoMA Exhibition, 1989 (only 41 years old)
f. Winning the Helsinki Museum Competition for Kiasma Museum of Contemporary Art, 1994
Can you name 3 people that have influenced and inspired you in a certain way?
Malevich
Le Corbusier
Louis Khan

What makes your work unique?
Drawing as Thought and dedicated collaborators

What responsibilities do the new generation of designers and architects have for the future of cities and communities?
• Globally strive for quality public spaces and better income
• Work for a clean environment for future generations
• Keep the flame of the art of architecture alive

How is your work changing the way architecture is perceived around the world?
The body moving through space, the phenomena of light material and detail have become an important exterior image!
How do you create an approachable strategy to involve technology and sustainability? Many times, we see technologies as something very far from our reality; rather your projects work with incredible technological features. How do you manage to design such simple and incredible solutions from something so complex?
The poetic idea is what drives the design and the building significance for the location; rather the situation guides the aim for environmental and ecological excellence. Engaging state of the art technology in material, structure, and HVAC can be fused with the poetic utterance.

Complete the sentence: "The secret for a successful sustainable urban plan is…."
… the magic yield of a guiding poetic concept which shapes sections and plans with urban porosity, abundant natural light, vegetation, and social space

What´s the aim of the exhibition presented at the Milan Design Week?
To debate about Drawing as Thought, and reflect about Milan, the great metropolis

What city is your favourite city in the world? (In terms of inspiration and architectural landscape)
Rome: for space and historic light
New York: for unpredictable energy and engagement
Could you describe with a word or a sentence, what first comes to mind for the words below:

-Space: Walking through luminous volumes of overlapping space
-Color: Blue of melting snow under a cobalt sky
-Light: Magic ripples of shining light on the sea
-Architecture: Shaft of moonlight in the Pantheon
-Beauty: Vast translucent cloudbank
-Innovation: Inspiring mystery of the yet unknown
© Fuorisalone.it — All rights reserved.
Galleria Antonia Jannone, Corso Garibaldi 125
From April 18th to June 3rd