Itinerary
Superstudio Più | SUPERDESIGN SHOW
Area: Tortona
At Superstudio Più the pulsing heart of zona Tortona
Superstudio Più – Via Tortona 27 – Milan
Press Preview 16 April 2018, 10am - 8pm (press only)
17-21 April 2018, 10am - 9pm 22 April 2018, 10am - 6pm
Although Superdesign Show's mission towards quality, excellence, research and the "less fair, more museum" original concept remains undiminished, the common theme that characterise every edition renovates: this year ONLY THE BEST, manifesto proposed by Gisella Borioli.
The selection focuses and highlights big names, innovative projects, life-style trends, technological solutions that improve the environment and everyday life, countries always at the top in the high-quality design such as Japan, and the emerging centres of new design, like a surprising Egypt.
"I can really feel the twenty years of Superstudio Più getting closer, and the creation, in 2000, with the new born Fuorisalone, a new way to communicate design and "to do fair", a concept that renovates and integrates the traditional, and yet important trade fair. Looking towards the future without repudiating the past, I try every year to totally renew the Design event, aligning on the latest trends, on intuitions and on the most significant proposals. The turning point of 2018 is called "Only The Best", and this is the reason why I wanted, at my side again, Giulio Cappellini as art director and protagonist. These are the four compass points, the most anticipated and extended projects that will lighten up Superstudio: the super solo exhibition by Nendo, the maybe most successful design studio, the high-tech and sustainability international brand Dassault Systèmes with a project by Kengo Kuma, the Smart City exhibition extended until half May, as well at Superstudio Più, and Superloft the house that everyone fancies living in, with Italian top design brands", says Gisella Borioli.
SUPERLOFT
The Superloft imagined by Cappellini is an imaginary yet real home, cool and eclectic, cultured and elegant, with the participation of the most interesting protagonists of the Made in Italy design and the masters craftsmen who can create beautiful and precious things. A house that combines side-by-side iconic pieces by the most important furniture brands, in a synergy between contemporaneity and vision. Every space of a hypothetical home where a family could actually live will be explored. From the living to the wellness room, from the kitchen to the bedrooms, from verandas to service spaces. A proper superloft, whose idea is to create an International home: that could be placed in Paris as well as in New York in Berlin or Shanghai.
"Now, more than ever, people want to live in a home that reflects their tradition, culture, identity. I tried to create a wide-ranging space that is not just a status to exhibit but describes the pleasure of living in cosy spaces, surrounded by beautiful objects, now discreet and declared, that become essential presences in our existence" states Giulio Cappellini.
The following will participate to Supeloft: Boffi, Cappellini, Designers Guild, Flaminia, Fontanot, Icone Luce, Linvisibile, Living Divani, Magis, Meisterwerke, Oikos, Orsoni, Pecchioli Firenze, Poliform, Poltrona Frau, Salvatori, Trend Group, Vetrerie di Empoli, Wave Murano Glass. And designers: Michael Anastassiades, Ron Arad, Ronan e Erwan Bouroullec, Achille e Pier Giacomo Castiglioni, Tom Dixon, Rodolfo Dordoni, Silvia Fanticelli, Renzo Frau, Ron Gilad, Konstantin Grcic, Jaime Hayón, Piero Lissoni, Shi-Chieh Lu, Alessandro Mendini, Jasper Morrison, Nendo, Neri & Hu, Elisa Ossino, Marco Pagnoncelli, Andrèe Putman, Philippe Starck, Leonardo Talarico, Marcel Wanders, Norbert Wangen.
Superloft will be running also in the evening, after the closing hours, with private dinners invitations in this top-design house. A different view to share emotions of design with friends and business relations.
THE GREAT EXHIBITION BY NENDO
"Nendo: forms of movement" is the extraordinary, spectacular, sensorial exhibition, proposed by the award-winning and very anticipated Japanese studio Nendo, an undisputable icon of contemporary design, who this year will bring the viewer towards a mysterious labyrinth: in an over 800 sq.mt. space 10 concepts based on the idea of movement, is born from an object's function, material or way of production. The exhibition will show not only the final products, but also samples and drafts, in a fascinating journey in the heart of design creation.
MORE JAPAN
Japan loves Superstudio. In fact, in addition to Nendo, an entire enclave of successful companies, start-ups and hubs of promotion of Made in Japan design arrives in Central Point, for an itinerary through space and time, contrasts between the most inventive technology and millennial traditions.
Kawai, in collaboration with the light artist Takahiro Matsuo, exhibits the poetic installation "Crystal Rain" where a piano with a transparent end, created to celebrate the company's ninety years, floats on a water glass generating a light waterfall to every note.
Yokohama Makers Village, a network of companies highly specialised in the production of metal located in the Yokohama area, is back with Reflection/Shadow to explore the material's characteristics in a game of reflections and shadows.
Japan Design Week, Japanese design festival supported by the Design Association npo transfers to Milan. On the spotlight are the winners of the competition held in Hirosaki City under the "apple" theme, that became a lamp, then a table, chair, sandals, kimono. And a series of films that recount the Design Week in various cities of Japan.
Budbrand, the company dedicated to support the future generation of Japanese designers, is back at Superstudio Più with a project inspired by the "Celebrations" theme, with gift-objects to give joy to whoever receives them.
To complete the Japanese enclave is Yoy, extremely young and award-winning design studio from Tokyo, that exhibits three new accessories, two lamps and one wall clock, and introduces for the first time ever the updated and renovated edition of an innovative speaker that combines sound and visual elements.
The itinerary ends with a tribute to one of the most important Japanese designers of the 20th century, "Homage to Kuramata", a poetic installation curated by Antonio Facco, admirer of Shiro Kuramata's work (1934 – 1991): in a bed of roses we find the curvilinear forms of the well-known chest of drawers, the transparent materials, the acrylic and the steel net that dematerialize the object and challenge gravity.
ENVIRONMENT AND TECHNOLOGY
With the "Design in the Age of the Experience" exhibition, Dassault Systèmes will reveal an iconic installation that encapsulates "Design For Life" concept and reacts to the increasing problem of air pollution. In a bid to tackle this environmental and social issue, Dassault Systèmes has given Kengo Kuma and Associates a challenge to create a solution-based design that maximizes the use of existing pollution and neutralizing solutions.
The proposal by Habits mixes aesthetics and technology with multifunctional objects that comply with the desire of an ever more performant home. Together with Quantum, innovation accelerator based in Tokyo, it presents flexible lamps as stems, timekeeper with essential lines and spheres that reflect the lunar phases reconnecting human with nature.
INNOVATION OF MATERIALS AND TEXTURES
Superdesign Show is research and innovation also on contemporary materials, sustainability and new technologies with two projects, Materials Village and Smart City, by Material ConneXion Italia, that are back, expanded and renovated for the edition 2018. Materials Village, a successful and by now consolidated format, for the fourth year in a row at Superstudio Più, hosts over 20 companies connected to the world of materials and Avant-guard production processes. Materials Village proposes every year a strong-impact set up and this year doubles presenting two great installations dedicated to the theme of sustainability and material in the Art Garden. A specular tower by Studio Marco Piva shows materials at the base of an architectural project, whereas another installation of excellence on the theme of circular economy is curated by the famous designer Yona Friedman for CONAI and Consorzi di Filiera for packaging recycle. Among many new entries, a name of excellence stands out such as PUMA with the MIT Design Lab of Boston, that together will present a research project on a performant fabric that reacts depending on the percentage of atmospheric pollution.
On materials' theme, the itinerary continues through the Polyrey exhibition, a French company specialised for over 60 years in the production of top quality ornamental laminates. Focused on trends and in constant renovation, Polyrey launches the new collection (317 decors of which 93 unreleased and 8 new surface finishings) intended for interior design, emblems its ability to blend technical performances and daring aesthetics aims.
Ilva Wood Coatings, a brand of Gruppo IVM, presents "Wood coating stories": in a spectacular set up by Ferruccio Laviani. The company, among the world leading manufacturers and Italy's biggest one in wood varnishes presents innovative finishes giving wood brand new texture. On show the award-winning projects of the concept supported by Istituto Marangoni.
A technical-emotional itinerary, for Caimi Brevetti, 65 years of history and hundreds of patented projects: an exhibiting space to present soundproofing panels in an unusual way. A sequence of scenic design with Snowsound and Snowsound Fiber Textile technology as protagonists allow to experiment and at the same time activate the sight, touch and hearing senses through a real experience that the visitor can do by going through a sound tunnel.
Gore-Tex presents a technologic installation of great visual impact, with light as protagonist, that by means of a proper light show will highlight one of the key characteristics of the famous material, its versatility.
"Transparent is the new color" a project by Madea Milano, where methacrylate is protagonist, enhanced through hand manufacturing techniques and unusual combinations among Italian manufacture refined materials such as marble and wood.
Ecological design is the focus point of ecoBirdy's research: the first furniture collection for kids made exclusively with recycles plastic and created with small coloured pieces of reused toys to create a new unique one.
Back this year, Superdesign Show's partner is Radici Contract, number one for personalised carpets upon requests, for a soft and elegant floor chosen by the most important fashion brands. For 2018 edition, Radici created in the common corridors a sophisticated carpet of two contrasting dark browns, burgundy and dusty turquoise.
On Superstudio's evocative Roof, location of the first Milanese urban vegetable garden and the "Terzo Paradiso" permanent installation by Michelangelo Pistoletto, "Fuoriformato" collection by Target Group presents the new decorative proposals especially created by artists, architects and designers on 3m high ceramic sheets.
A MONTH-LONG SMART CITY
Impossible talking about new materials without developing also the current issue of the Smart Cities. Under the direction of the architect Giulio Ceppi and supported by the Municipality of Milan, the second edition of the event-exhibition "Smart City: Materials, Technologies & People" by Materials ConneXion expands this year taking up 1000 sq.mt.
The exhibition suggests a reflection on the theme of the intelligent city starting from its citizens introducing materials and technological solutions that can be applied to the most significant changes in the fields of Advanced Building and Infrastructures, Connected City, Smart Living - Smart People, Sustainable and Circular City, Integrated Mobility, Food Policies and Urban Agriculture. The exhibition will launch along with the Design Week and will stay on show for one month so as to be visited during the Milan Food Week in May, this thanks to Superstudio's hospitality and partnership with Seeds&Chips, international hub on Food Innovation.
URBAN TECHNOLOGY
New Mobility is the main theme of the Stahl & Partners research that, within the "New Mobility meets Interior Design" project, the question begins "can a car fulfil further needs other than simple mobility?" and imagine a self- driving vehicle, a future "living space" to live when and where you want.
To shape the space with reflections, images and sounds, this is the path proposed by Cristian Russo and Marco Pietro Ricci of dArk Studio Milano with "Prospettive_Perspectives". The installation explores themes of "moving architecture" and "dialogue of the opposites" giving life to a project that takes to extreme limits the state of the art of LED Technology by MacroPiX, Italian manufacturer of sophisticated LED displays.
The very Italian Iooota presents Jarvis in Milan, a smart response to a new living concept. All in only one mobile application that combines security, energy-saving and remote control, basically a virtual butler at your disposal, always.
LIFESTYLE ICONS
An ironic and amusing exhibition curated by the Danish designer Niklas Jacob, "IDEA – The Design Supermarket" as a tribute to large distribution chains: 18 designers from 6 different nations will exhibit flat-pack projects with a "Do it Youself" assembling, not however the usual objects… so here is the assembling spare tyre, the hiding-lovers wardrobe, the pedestal for the egocentric ones, the bookcase for only a favourite book, a dining table for those always on a diet, the cradle that seems a boat, a portable shelter for dogs, the table with interchangeable legs, and many more.
S.Pellegrino brings unique design pieces to the top tables of the world, with a Design Special Edition "The Journey of Water". Three international designers coordinated by Giulio Cappellini, redesign S.Pellegrino's iconic label for three exclusive limited editions, reinterpreting it with their own personal vision and presenting three especially made emotional installations at Superdesign Show.
The Swiss watch makers maison Rado and Istituto Marangoni Milano – The School of Design will present the very anticipated final project of "Rado Star Prize Italia 2018" an original pop-up store inspired by the "Natural Freedom" theme created by the students of Istituto Marangoni in the fields of Interior, Product, Visual, Fashion and Accessories Design.
NEW BORDERS OF DESIGN
Superstudio extends the horizons of contemporary living by exhibiting "Nile Selection" in MyOwnGallery, the best proposals of Egyptian furniture industry selected by Giulio Cappellini. A house swinging between tradition and innovation in a game of alternating woods and natural materials with fabrics and lacquering that explore the theme of colour. The following will exhibit: Amr Helmy Designs, La Roche, Meuble El Chark, Mohm, Nadim, Richie by Shoulah.
The twine between art and traditional handcraft, on one hand, contemporary design and graphic, on the other, they characterize "Java Blues", exhibition of furniture, art objects, fabrics and ceramics presented by Indonesian Contemporary Art & Design by Artura, that since 2009, organizes every year an art and design exhibition to explore the treasures of Indonesian heritage from a contemporary viewpoint.
SOCIAL MEDIA & DESIGN
The micro gallery at the entrance of Superstudio, the art.box transforms itself into a Millennial Pink Room, a tribute to "Millennial Pink", the most used colour in sharing on social media. Creator of the total pink scenic design, DesignByGemini, brand created by the two designers and influencers Giulia and Elena Sella, that also present a new mirror with Swarovski Crystal, a pied de poule floor for Econtract, and the mugs for Bitossi with symbols inspired by social media language.
This year, Superdesign Show is "Only the Best" in sound too. Thanks to the partnership of fuorisalone.it with Spotify, Superstudio has its own dedicated playlist as well, created this year by Rolling Stone who selected ten aces in their category, from the Beatles to Michael Jackson
COLLECTIVE THEME EXHIBITIONS
SELECTED OBJECTS are back at Superstudio Più, expanded and renovated, a successful section dedicated to small innovative companies and individual iconic objects in the running to stay in the design annals. Freely selected by Superstudio's artistic board, every "prêt-à-vivre" design objects are on show in a large collective exhibition that highlights new aesthetics, research, innovation, a result of a team work, of a young designer, a new company, a consolidated brand.
So here comes Barcelona Rugs, that recall the Spanish city; Daard, travelling suitcases and bags; Delirious Eyewear, collection of glasses made of unusual materials; Extroverso, furniture with graphic effects in collaboration with Japanese designers; Faina, furniture and accessories made of natural etno-chic materials; Hamad Sultan, modular shelving system, changeable with a simple gesture; High tech +, 3D printers for the creation of sophisticated design projects; LLAB Luigi Lovato Astonish Beauty, first collection of furniture inspired by art work by Serra, Arp and Brancusi; NJ Interiors, multicultural structures for design handles and knobs; Sapiens Design, vases and lamps that change function according to elements' position; Size M, transformable wardrobe for kids.
And moreover, DISCOVERING, a unique opportunity of visibility and diffusion that Superstudio gives to young emerging talents from all over the world, selected for originality and research, who present one single product or a representative prototype of their creativity, important for trends of the contemporary living. On exhibition among Discovering: DiciannoveDieciDesign, Elena Rurua, Inthegarden, Mati Collective, Matteo Pala, Modu Designers, Rafael Kouto, Rform, Sergio Simon, Simoncini Studio, Studio-Oberhauser.
ART MEETS DESIGN
Visionary architects like artists, artists who deal with design always add value to Superdesign Show event. In the bathroom, by now deconsecrated as taboo space for intimate use to hide from sight, today rituals of wellness, beauty, pampering are celebrated. More than natural, the transformation of this place into a cosy room that accommodates bathroom fixtures and significant furniture, up to actual design "private" icons designed by masters of the project Nendo, G. Cappellini, J. Morrison, P. Navone, P. Norgouet, R. Palomba, F. Novembre, R. Dordoni, H. Heng Hsiao, A. Mendini. The exhibition, curated by Leonardo Talarico and Giovanni Cappellini, combines iconic products from Flaminia to the sculptural plasticity of art works by Flavio Lucchini.
Moreover there are the 3m high white Totems by Flavio Lucchini, large sculptures as a tribute to fashion, created to be placed in public spaces, coordinated to suspended glass by Icone Luce.
Forty artworks on light, Light on Frame, hybrid photography and digital painting and recount light installations hosted here at Superstudio in almost 20 years of design, re-elaborated by the artist, designer and art director Pier Paolo Pitacco.
Further on, an extract of the "Lari" exhibition curated by Alessandro Guerriero for Alchimia's fortieth anniversary: little statues by well-known designers evoke "Lari" with irony.
Book shop with books and design objects by SKIRA, drinks on Roof, juice bar, meeting and conference room, press office.
SUPERDESIGN SHOW is a project by Gisella Borioli with artistic direction by Giulio Cappellini.
We thank Slide for the furniture at the press office, Venchi for the chocolate, S.Pellegrino for the water, Il Palato Italiano for Dattitempo - Rooftop Bar and Valdo for sparkling wine during the press preview.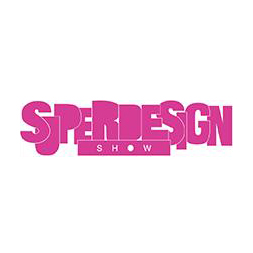 VAI AL SITO
Superstudio Più
Via Tortona 27
Milano