Focus Event
Moleskine Moving Ideas
Address
Base Milano
Via Bergognone 34
MILANO
Designers
Giulio Iacchetti
Bradley Theodore

From notebook to backpack: Bradley Theodore customized collection
Bradley Theodore with Moleskine at BASE Milan
The Classic Backpack reinterpreted by the New York artist
The meeting of two nomadic objects par excellence. The black notebook a design icon, simple, pocket-sized and durable, originally created to collect sketches, thoughts and ideas when travelling or on the move, meets the backpack, the natural evolution of the Moleskine notebook, with rounded corners, elegant yet solid, with its semi-rigid base that can be set down in any situation.
Moleskine is taking part in BASE Milano's Milan Design Week dedicated to Nomadic Design with the Classic Bags Collection backpack, which - like the pages of the notebook - is decorated.
Within the BASE Milano space, Moleskine presents an installation focused on the main innovative element of the Classic Bags Collection: the semi-rigid base. Designed by Giulio Iacchetti, it allows the bag to stand upright when you put it down, keeping it protected: elegance and nomadism together.
Other videos show New York street artist Bradley Theodore at work customizing the bag.
Bradley Theodore is a street artist originally from the Caribbean and now based in New York. He is drawn to and inspired by the world of fashion. He is famous for his street art project dedicated to two fashion icons: Anna Wintour and Karl Lagerfeld. The faces of his characters, transformed into lovely, gentile skulls, skeletal and colorful, are depicted with rapid brush strokes that draw seemingly imprecise lines, with a somewhat expressionist flavor, dominated by colors and pastel combinations.
The event continues at the Moleskine Café, Corso Garibaldi 65, where Bradley Theodore will stage a live painting performance on the façade windows and engage in an open conversation with the public around the topic of public art in New York, with a final party at 7.00 pm (invitation only).
The customization performance continues digitally: at BASE, at the Moleskine Café and in the Moleskine Stores on Piazza Gae Aulenti, Via Dante and Corso Buenos Aires, the public can customize a Moleskine Classic bag virtually, designing their own pattern by using the Moleskine Smart Writing Set (the system for transferring content from paper to digital), applying it to the bag with the special app and sharing it on social media.
Every virtual customisation will become an animated GIF to share on social channels, but also on the displays of BASE spaces. And during Design Week only, for every bag purchased in Moleskine Cafè and Moleskine Stores in Milan (Via Dante, Piazza Gae Aulenti and Corso Buenos Aires), customers will receive a limited edition notebook with the printed signature and belt of the street artist Bradley Theodore. At the same three Moleskine Stores on Via Dante, Piazza Gae Aulenti and Corso Buenos Aires, Classic Backpacks customized by Bradley Theodore will be on display.
Lounge area – M-Box installation at BASE by Pedrali
Dates
BASE, Via Bergognone 34
- Monday, April 3, 3-5pm – M-Box Press Preview with Giulio Iacchetti and Bradley Theodore.
- Tuesday, April 4, 12am – M-Box Street Talks. Let's talk about street-art. Conversation with Bradley Theodore. Limited seats - you can register for the event here
- Wednesday, April 5, 5pm – From Notebook to backpack. Conversation with Giulio Iacchetti, designer of the Moleskine Classic Bag Collection. Limited seats - you can register for the event here.
Moleskine Café, Corso Garibaldi 65
- Monday, April 3, starting from 7pm (invitation only) – Moving Ideas Party. Live painting performance with Bradley Theodore. DJ set: RollOver. Press Preview at 6pm
- Thursday, April 6 h 18 – Street Talks. Let's talk about street-art. Conversation with Bradley Theodore. Limited seats - you can register for the even here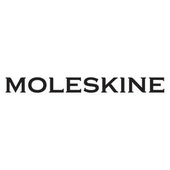 Program
4 Tuesday
12:00 - 14:00
Meeting - M-Box Street Talks: Let's talk about street-art. Conversation with Bradley Theodore
5 Wednesday
17:00 - 19:00
Meeting - From Notebook to Backpack. Talk with Giulio Iacchetti