Event
New showroom and newest collections by Nexus Designs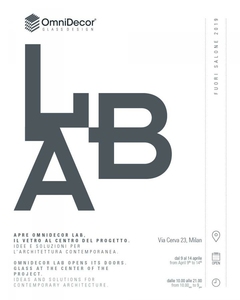 New showroom and newest collections by Nexus Designs
OmniDecor Lab opens its doors. Glass at the center of projects.
Ideas and solutions for contemporary architecture.
The company, an international reference point for the production of etched glass, opens a new showroom, presenting the collection of decorated glass created by Nexus Designs. The project consists of four patterns based on three-dimensional effects.
Brands
OmniDecor

Brands:
OmniDecor
Designers
Defne Koz
Marc Krusin
Designs Nexus
Egidio Panzera
Kiki van Eijk

Designers:
Defne Koz
Marc Krusin
Designs Nexus
Egidio Panzera
Kiki van Eijk
Contacts
Marketing: Elettra Bresciani - marketing@omnidecor.net
Press: Giuseppe Ravera - press@omnidecor.net
Program
8 Monday
11:00 - 18:00
Press preview - Press preview
9 Tuesday
10:00 - 21:00
Exhibition - Newest collections by Nexus Designs
19:30 - 22:30
Reserved party - Opening party - by invitation only
10 Wednesday
10:00 - 21:00
Exhibition - Newest collections by Nexus Designs
11 Thursday
10:00 - 21:00
Exhibition - Newest collections by Nexus Designs
12 Friday
10:00 - 21:00
Exhibition - Newest collections by Nexus Designs
13 Saturday
10:00 - 21:00
Exhibition - Newest collections by Nexus Designs
14 Sunday
10:00 - 21:00
Exhibition - Newest collections by Nexus Designs