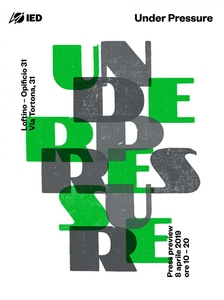 Istituto Europeo di Design is participating in the Fuorisalone with Under Pressure, the installation that invites the Design Week public to reflect on the important issue of environmental, social and economic sustainability. Under Pressure is an ambitious international project that looks at how we can salvage our relationship
with nature and which of our planet's equilibriums are coming under increasing pressure.

The project is first and foremost a 3-year training programme aimed at 2nd and 3rd year students from all 3-year courses at the Network's eleven sites, including IED Italy, Spain and Brazil. The first phase of the project saw the launch of the competition 100 questions for tomorrow which, key to shaping the research and development of 100 design projects in the next two years, will go on display in Tortona.
Brands
ISTITUTO EUROPEO DI DESIGN

Brands:
ISTITUTO EUROPEO DI DESIGN
Contacts
ISTITUTO EUROPEO DI DESIGN
Press office - Eleonora Ronsisvalle Tel. +39 346 1300428 - p.r@ied.it
Program
8 Monday
17:00 - 20:00
Party / cocktail - Opening by invitation
10:00 - 20:00
Press preview - Preview reserved for the press
9 Tuesday
10:00 - 21:00
Exhibition - Open to the public
10 Wednesday
10:00 - 21:00
Exhibition - Open to the public
11 Thursday
10:00 - 21:00
Exhibition - Open to the public
12 Friday
10:00 - 21:00
Exhibition - Open to the public
13 Saturday
10:00 - 21:00
Exhibition - Open to the public
14 Sunday
10:00 - 18:00
Exhibition - Open to the public
Find the event


on map
Photos


of the event