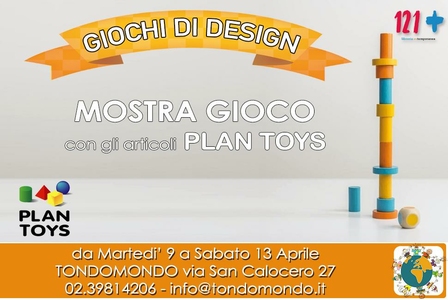 Exhibition game with Plan Toys articles
For FUORISALONE 2019, the eco-compatible toy store Tondomondo, in collaboration with the 121 + excontemporanea Corraini bookstore, prepares its own space with a selection of games of the PLAN TOYS brand.
From Tuesday 9th to Saturday 13th April 2019 Tondomondo, in via San Calocero 27, opens its doors to all children and their parents who want to play with the PLAN TOYS's toys.
Former home-gallery of architect and designer Tarshito, the space now houses a paradise for children among green wooden, recycled plastic, fabric or cardboard toys.
During the Fuorisalone days the local activity will become the test space for the Thai brand games.
Games with special attention to design and the material used completely responsible and environmentally friendly, both for the very young with the first sensory games and for the older ones for oculo-motor coordination.
Finally, on Saturdays at 12.00 noon, a small aperitif will be offered to all participants, both adults and children.
Moreover, for the convenience of mothers, a baby pitstop and a breastfeeding corner are always present in the shop for younger children.
Brands
PlanToys

Brands:
PlanToys
Contacts
TONDOMONDO via San Calocero 27, Milano
02.39814206 - info@tondomondo.it
Program
9 Tuesday
10:00 - 19:00
Exhibition - Exhibition game with Plan Toys articles
10 Wednesday
12:30 - 19:00
Exhibition - Exhibition game with Plan Toys articles
11 Thursday
10:00 - 19:00
Exhibition - Exhibition game with Plan Toys articles
12 Friday
10:00 - 19:00
Exhibition - Exhibition game with Plan Toys articles
13 Saturday
10:00 - 14:00
Exhibition - Exhibition game with Plan Toys articles
12:00 - 13:30
Party / cocktail - Aperitif