Event
VERZURA - Mimetismo Tropicale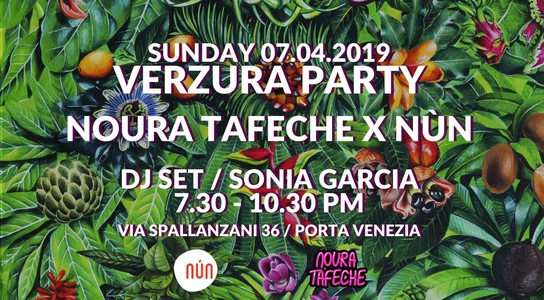 ¡Celebramos Junt*s el Mimetismo Tropical!
Noura Tafeche takes over NUN and transforms its space into an immersive experience through her work "VERZURA" - a transcultural research of hand-painted native flora from latitudes in-between the tropics: Dem. Rep. of Congo, Burkina Faso, India, Nicaragua. The metaphor of nourishment and fruits that grow spontaneously, linked to other natural, longitudinally distant elements, gives rise to an unpredictable combination of colors and symbolism.
Noura Tafeche is an international interdisciplinary artist based in Milan.
Brands
Noura Tafeche

Brands:
Noura Tafeche
Designers
Noura Tafeche

Designers:
Noura Tafeche
Program
8 Monday
12:00 - 15:00
Exhibition - NUN-tasteofmiddleeast is gonna be filled with the cheerful tropical warmth of
9 Tuesday
12:00 - 22:30
Exhibition - UN-tasteofmiddleeast is gonna be filled with the cheerful tropical warmth of
10 Wednesday
12:00 - 22:30
Exhibition - UN-tasteofmiddleeast is gonna be filled with the cheerful tropical warmth of
11 Thursday
12:00 - 22:30
Exhibition - UN-tasteofmiddleeast is gonna be filled with the cheerful tropical warmth of
12 Friday
12:00 - 22:30
Exhibition - UN-tasteofmiddleeast is gonna be filled with the cheerful tropical warmth of
13 Saturday
12:00 - 22:30
Exhibition - UN-tasteofmiddleeast is gonna be filled with the cheerful tropical warmth of
14 Sunday
12:00 - 22:30
Exhibition - UN-tasteofmiddleeast is gonna be filled with the cheerful tropical warmth of