Event
FROM SHIPYARD TO COURTYARD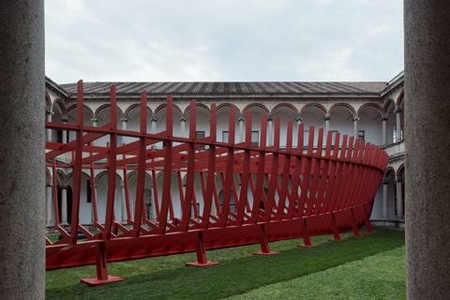 "As if the sea had run dry, the silhouette of a yacht has settled placidly inside a courtyard of the University of Milan, a creature whose only recognisable element is the structure defining its original purity". Piero Lissoni, Sanlorenzo's Art Director
Sanlorenzo
, one of the world's main shipyards for the production of yachts and superyachts, takes part in
Milan's FuoriSalone
for its third consecutive year with the
installation "From shipyard to courtyard"
in the beautiful setting of the
U
niv
ersità degli Studi
di Milano
("University of Milan").
Clearly evoking the wooden frameworks that shipwrights, outstanding shipyard figures, used to build, Piero Lissoni reinterprets the hull of an SX112 yacht through a process of abstraction
The interior of this imposing structure on 1:1 scale, in the middle of the courtyard, will be walkable, making it possible for visitors to board and tour the boat.
An ideal connection between the past, present and future of Sanlorenzo where the hull, which represents initial phase of the construction of the yacht, tells the story of master craftsmen who have always shaped these sophisticated artifacts while disclosing a new model that will be presented in 2020.
The flagship model SX112 will expand the crossover SX line, officially launched in 2017 with the first yacht SX88, followed in 2018 by SX76. Both models were presented in Piero Lissoni's interior design versions, where he conceived for the first time through his innovative project, an open space yacht
Brands
SANLORENZO

Brands:
SANLORENZO
Designers
Piero Lissoni

Designers:
Piero Lissoni
Program
8 Monday
10:30 - 23:59
Exhibition - Sanlorenzo, one of the world's main shipyards for the production of yachts and superyachts, takes part in Milan's FuoriSalone for its third consecutive year with the installation "From shipyard to courtyard" in the beautiful setting of the Università degl
9 Tuesday
10:30 - 23:59
Exhibition - Sanlorenzo, one of the world's main shipyards for the production of yachts and superyachts, takes part in Milan's FuoriSalone for its third consecutive year with the installation "From shipyard to courtyard" in the beautiful setting of the Università degl
10 Wednesday
10:30 - 23:59
Exhibition - Sanlorenzo, one of the world's main shipyards for the production of yachts and superyachts, takes part in Milan's FuoriSalone for its third consecutive year with the installation "From shipyard to courtyard" in the beautiful setting of the Università degl
11 Thursday
10:30 - 23:59
Exhibition - Sanlorenzo, one of the world's main shipyards for the production of yachts and superyachts, takes part in Milan's FuoriSalone for its third consecutive year with the installation "From shipyard to courtyard" in the beautiful setting of the Università degl
12 Friday
10:30 - 23:59
Exhibition - Sanlorenzo, one of the world's main shipyards for the production of yachts and superyachts, takes part in Milan's FuoriSalone for its third consecutive year with the installation "From shipyard to courtyard" in the beautiful setting of the Università degl
13 Saturday
10:30 - 23:59
Exhibition - Sanlorenzo, one of the world's main shipyards for the production of yachts and superyachts, takes part in Milan's FuoriSalone for its third consecutive year with the installation "From shipyard to courtyard" in the beautiful setting of the Università degl
14 Sunday
10:30 - 23:59
Exhibition - Sanlorenzo, one of the world's main shipyards for the production of yachts and superyachts, takes part in Milan's FuoriSalone for its third consecutive year with the installation "From shipyard to courtyard" in the beautiful setting of the Università degl
Find the event


on map