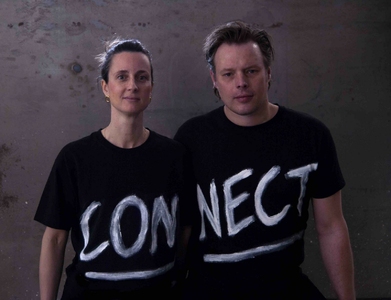 KIKI VAN EIJK & JOOST VAN BLEISWIJK With the participation of Niels Hoebers, Sander Wassinik, Michela Castagnaro; Produced by 5VIE with the support of the General Consulate of the Netherlands
The lack of empathy is a growing problem of our time. Connect, a site-specific installation by Kiki van Eijk and Joost van Bleiswijk, explores the theme of connection – between nature and people, between subconscious creativity and physical expression, between the crossover of different disciplines and the use of materials. For Kiki and Joost, it all starts with drawing, an instinctive process that is followed by a long prototyping phase of rolling up their sleeves and getting their hands dirty, experimenting and building with different materials and colors. Their method revolves around a constant and intimate collaboration, where the reciprocal influence is as stimulating as it is respectful. This shared approach reinforces their separate identities without compromising them. As often happens with creative couples, the final product is a private story that becomes a public homage.
Kiki van Eijk presents Free Form, a series of ceramic LED lamps modeled on the repetition of natural forms and their coexistence with humanity. With Space Poetry, Kiki examines the relationship between space and architecture, translating it into a series of unique pieces that subtly suggest their own physicality and function.
Joost van Bleiswijk presents Curved and Taped, sculptural forms that focus on the expressive gesture, distancing them from functionality, while hisInterlocking Panels are imaginary objects with interconnected minimalist forms. In Connect, their works are intertwined, pushing past the boundaries of architecture, art and design, and demonstrating that incredible things can happen when we allow ourselves the opportunity to share and collaborate.
Designers
KIKI & JOOST VAN EIJK & VAN BLEISWIJK

Designers:
KIKI & JOOST VAN EIJK & VAN BLEISWIJK
Contacts
www.5vie.it

FOLLOW US ON:
Facebook: 5VIEmilano
Instagram: 5vie_milano
Linkedin: 5VIE ART+DESIGN
HASHTAG: #5vie