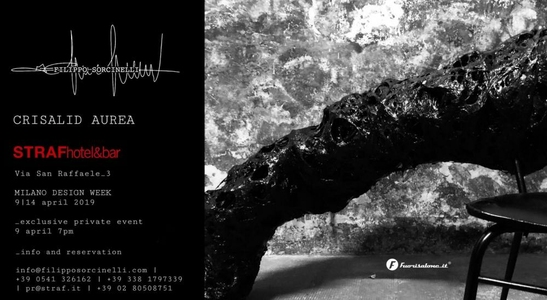 First Filippo Sorcinelli's not-design collection: objects weaved in a black fabric with unusual and outlandish techniques, precious stones masterly embroidered with golden threads and geometric needlework.
FILIPPO SORCINELLI
CRISALID AUREA
I remember when
in Mondolfo…
Filippo Sorcinelli for the first timeatFuorisalone, the important show in connection with Salone Internazionale del Mobile in Milan during the Milano Design Week 2019 from the 9th to the 14th of April.
In the occasion of this prestigious show Filippo Sorcinelli reveals to the public a new Home Design collection entirely inspired by his Atelier LAVS, his childhood in Mondolfo (his hometown) one of the nicest villages in Italy.
He chose STRAFhotel,designed byVincenzo De Cotiis, as a place coherent with his thought and artistic experience.
CRISALID AUREA, "chrysalis aurea", is the first not-design collection by Filippo Sorcinelli: objects woven in black material declined in unusual and exclusive techniques combined with skilful geometric embroidery in gold threads and authentic hard stones. A binomial of excellence that combines ancient and modern. Real sculptures, highly collectible, whose "canonical" forms undergo violent changes, almost like the process of the metamorphosis of a chrysalis. Layering of materials of various origins, which prolong the life of these works, as they react and change over time with their contradictions and their culture.
A journey into the material that captures, affects and provokes emotions.

I remember when in Mondolfo...it is a collection of five fragrances that describe moments of adolescence of Filippo in the city of Mondolfo, in the Marche region. Five candles / sculpture in smoked ceramic material, and five important diffusers for the environment that recount, move with their immediacy the senses and warm the soul.

Santa Giustina, the church that has become the motor and food of all the artistic experiences of Filippo.

Fico e Ferro (Fig tree and Iron), tree of house with branches tied by wire, and where Philip climbed to play helped by his father.

Pallone con Bracciale (Ball with Bracelet), historic sport with the smells of leather and wood among the oldest in Italy and still practiced in Mondolfo.

Maria Luisa, a gentle and silent woman, with a passion for embroidery on linen and the scent of lily of the valley, who has supported the artistic studies of Filippo

Arancia e Camino (Orange and Camino), a traditional and simple gesture that smells smoky citrus fruits.

The hall of the STRAFhotel, in via San Raffaele 3 will be the setting and will enter into communication with the material and sensorial installations specially designed and created by Filippo Sorcinelli, who has always made his work coincide with the art.

There will be three points of the hotel that make up the journey of the handworks made and merged with video projections to the limit of emotional vertigo and experiential sound rooms with mirrored reflections, as if it were a concert of restless and wonderful experiences that involve all the senses.


Do not miss the party on Tuesday 9th April from 7 pm in the hall of the STRAFhote with Greta La Medica dj set.
FILIPPO SORCINELLI
Front Office - logistics@filipposorcinelli.com| +39 0541 326162
Press Office and PR info@filipposorcinelli.com| +39 338 1797339
STRAFhotel&bar | a Member of Design Hotels™
via San Raffaele 3, 20121 Milano Italy
Ufficio Eventi - eventi@straf.it| ph +39 02 80508744

Front Office - info@straf.it| ph +39 02 80508701

Press Office - pr@straf.it| ph +39 02 80508751
Brands
FILIPPO SORCINELLI

Brands:
FILIPPO SORCINELLI
Designers
FILIPPO SORCINELLI

Designers:
FILIPPO SORCINELLI
Program
9 Tuesday
18:30 - 22:30
Party / cocktail - Party at Straf Hotel with Greta La Medica dj set e Pau Masclans performer.
10 Wednesday
10:00 - 13:30
Press preview - Introducing the new project to journalists and bloggers
11 Thursday
09:00 - 23:30
Exhibition - Olfactory installation, a journey through the senses
12 Friday
09:00 - 23:30
Exhibition - Olfactory installation, a journey through the senses.
13 Saturday
09:00 - 23:30
Exhibition - Olfactory installation, a journey through the senses.
14 Sunday
09:00 - 23:30
Exhibition - Olfactory installation, a journey through the senses.