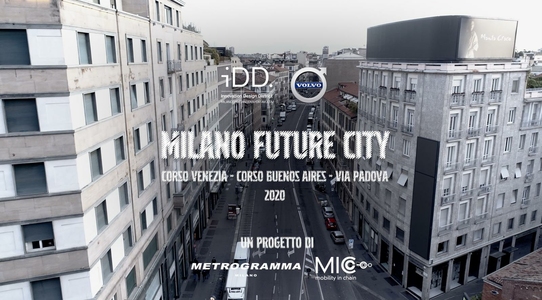 MASTERTALK ICON DESIGN TALKS: MILANO FUTURE CITY
Milano Future City is a project desired by a solid and consistent collection of actors – leading the ranks are Metrogramma, Mobility In Chain and Volvo Car Italia as main partners – that envisages the redefinition of ten key major roads in the city as a new integrated radial network in which the car becomes a true service.
The project takes off with the experimental study of the "Buenos Aires" axis, a segment of approximately 6 km that connects Piazza San Babila to the Martesana, and envisages the review of the mobility, optimisation of the road section, the calculation of intelligent parking, the timing of traffic flows and the introduction of shared surfaces.
A smart lane is inserted into this new map, shared by small electric vehicles, bicycles and last-mile services, enriched by dedicated parking bays, meeting points, privileged recharging areas and folies verdi intended as multimedia hubs.
Flexibility becomes the key word of a system that integrates city, auto and user, obviously with the latter at the centre.
According to Volvo, the reduced environmental impact achieved through electrification, connectivity technology and security technology are the three cornerstones of future mobility. A philosophy that finds a concrete application in the Volvo Vision 2020, and consequently makes the Swedish brand the ideal supporter of this initiative.
Brands
Icon Design

Brands:
Icon Design
Contacts
54words - press office - 0236513132
Program
11 Thursday
18:30 - 19:30
Conference - MASTERTALK ICON DESIGN TALKS: MILANO FUTURE CITY