Event
Reshaping Pasta with Giulia Soldati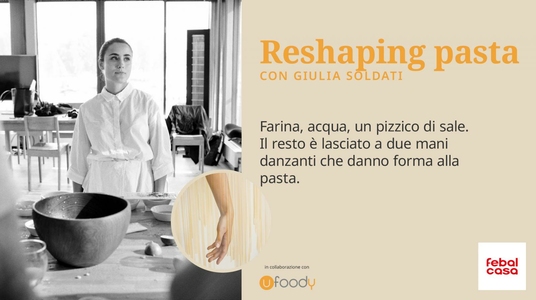 Flour, water, a pinch of salt. The rest is left to two dancing hands that shape the dough.
A performance in which the designer Giulia Soldati will stage the creation of pasta shapes taking her body as the unit of measurement. Special appointment with Giulia on Friday 12 April at 18:00.
The body becomes a design tool and returns to being the unit of measurement: a measure from which new forms of pasta are created. A noodle long as a forearm. When tradition is reviewed in terms of design. In collaboration with Ufoody, an online market of agri-food excellence.
Brands
Febal Casa
UFOODY

Brands:
Febal Casa
UFOODY
Program
12 Friday
18:00 - 19:00
Meeting - Meeting with the designer Giulia Soldati
15:00 - 19:00
Exhibition - Food deisn installation with Giulia Soldati
13 Saturday
09:00 - 19:00
Exhibition - Food deisn installation with Giulia Soldati
14 Sunday
09:00 - 19:00
Exhibition - Food deisn installation with Giulia Soldati