Percorso
Swiss Design Map Milano
Zona: Milano
Swiss Design in Milan? Have a look at the map!
Caro visitatore della Milan Design Week,
Benvenuti sulla pagina di Swiss Design Map Milano!
Eventi quali il Salone del Mobile e il Fuorisalone rappresentano da tempo un'importante piattaforma per le scuole di design, le ditte e i designer svizzeri.
Per dare maggiore risalto al loro impatto collettivo, incrementare la loro visibilità e per permettere al visitatore interessato di avere un'immediata panoramica sulla creatività, sull'innovazione e sulla qualità del design svizzero, il Consolato generale di Svizzera a Milano presenta per il secondo anno consecutivo Swiss Design Map Milano.
La mappa, concepita appositamente, permette di individuare con facilità tutte le location che coinvolgono una presenza svizzera. Cerchi lo stand di una ditta svizzera al Salone di Rho? Non sai dove trovare un evento svizzero al Fuorisalone? Che sia Brera, in zona Tortona, o altrove potrai orientarti agevolmente grazie alla mappa. Vorresti scoprire di più sulle scuole di design, sulle ditte e sui designer svizzeri più in voga? Troverai contenuti sorprendenti e costantemente aggiornati su questa pagina.
Fra le novità di quest'anno: SWISS ❤ DESIGN, una mostra a Palazzo Litta dedicata ai giovani talenti, e SWISS DESIGN DISTRICT, che raggruppa in via Tortona tredici piccole e medie realtà creative oltre a un concetto innovativo di mobilità sostenibile, frutto dell'unione di competenze italiane e svizzere.
Con la Swiss Design Map Milano il Consolato generale di Svizzera intende ancora una volta presentare la Svizzera come uno dei primi posti al mondo in termini di innovazione e competività economica, quale destinazione per un'esperienza di vita unica e - forse ti sorprenderà? - quale paese che sostiene giovani talenti creativi in quegli ambiti tipicamente associati a Milano come il cibo, la moda e il design.
E allora goditi il tuo viaggio nel mondo del design svizzero! Ti auguriamo di divertirti tanto quanto noi nel realizzare Swiss Design Map Milano!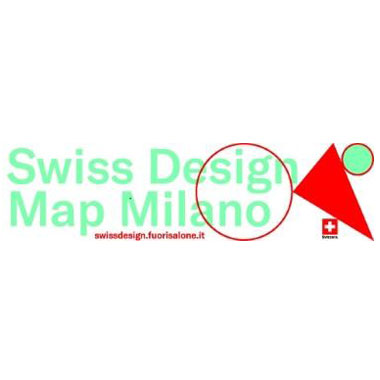 VAI AL SITO