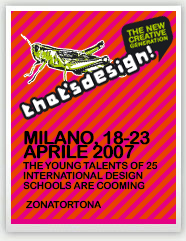 That's Design! a young designer's event

Project by:
Domus Academy
POLI.Design
POLI.Design
Facoltà del Design
Dipartimento INDACO
Zonatortona s.r.l.

Media partner:
MTV italia
Surface
Fuorisalone.it

That's Design! is a co-production between Domus Academy, POLI.design, the Faculty of Design and INDACO Department at Milan Politecnico and ZOT (*). An initiative created with international design schools bringing together institutions from twelve countries. The event will take place at Superstudio 13 and Industria Superstudio (Via Forcella 13 and Via Bugatti 5 respectively) during the Zona Tortona Design 2007 week.

Also on show, a series of corporate partners whose belief in the project and support have made That's Design! possible.
Alcantara con Alcantara® LAB under the artistic direction of Giulio Cappellini, Fap Ceramiche presents a refined installation in the centre of the exhibition dedicated to the schools, Mamoli with an installation by Alessandro Mendini, Natuzzi will present a series of installations curated by Romy Smits, Patrick Hoet, Bart Verheyen e Nicolas Morreel.
Pircher will launch a competition and launch the new module Q-BIG, and the participation of the Raymond Lowey Foundation

With the collaboration of: Festival della Creatività, Ing Real Estate, Nokia Nseries and Tucano
Media Partner: MTV Italia, Surface, Design-Italia and Fuorisalone.it
Patronised by: Comune di Milano

So What is That's Design!? It is a new event, with a strong international focus. It brings together under one roof a selection of the world's leading design schools. The exhibiting schools will present projects and products by their designers. An invaluable chance for universities, academies and young professionals to make themselves known. An opportunity for companies and young designers to meet each other.

In an area of around 1.800 m2 thirty of the world's most prestigious design schools will come together in an atmosphere designed to focus attention on those who constitute the future of design. Schools will be present from Chile, China, Korea, Finland, France, Germany, Japan, Italy, Holland, The Republic of San Marino, Sweden and Taiwan.

The schools participating in That's Design!: Lahti university of Applied Sciences , University of Art and Design Helsinki (Finland), l'Ecole de Design de Nantes Atlantique and l'Ecole Régionale des Beaux-Arts de Saint-Etienne (France), The Faculty of Design of Burg Giebichenstein University of Art and Design Halle and the Hochschule fur Gestaltung Offenbach (Germany), Faculty of Design from Milan Politecnico, Domus Academy, IED, The Faculty of Design and Arts of IUAV University, Venice, (Italy), Konkuk University (Korea), Interior Design Dpt of Kookmin University alongside the Interior Dpt. Of Tsinghua University China and Musashino Art University (Korea+China+Japan), Fachhochschule Nordwestschweiz Hochschule für Gestaltung und Kunst, Leiter Institut Industrial Design (Switzerland), Chalmers Tekniska Hogskola, HDK School of Design and Crafts from Goteborg University, Lund University Industrial Design- LTH and the Konstfack - University College of Arts, Crafts and Design (Sweden), and the Industrial Design Dept. of Shih-Chien University (Taiwan).