PARTNERS
BagnoDesign itinerary
it's an initiative by Fuorisalone.it in collaboration with:

...................................

Lightweb s.r.l. Zona Tortona Promocard
...................................


Companies
Companies that will take part of the initiative: ...................................

DReams
Texture e Materials
Even
Grohe
Colombo Design
Fable and Design
La Qualità e la Trasparenza
Dornbracht Ritual-Architektur® im Bad
Sicis
Sanitec Italia
Albatros
Koralle
Pozzi-Ginori
Simas
...................................
BAGNODESIGN ITINERARY PROJECT PRESENTATION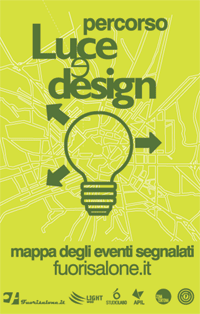 The salone del mobile week of Milan is the most important expositive event for the actors in the business on the international level and takes place in the design capital of the world. For years now there has been a parallel manifestation at work during the period, adding to and extending the main spectacle. It provides events within the spectrum of design of a more radical nature, and is in common tongue known as fuorisalone.

This incredible circuit (last year more than 500 events) has taken on a life of its own, freeing itself from the more "commercial" aspects of the fair. A happening in which are presented new products and collections, with never ending aperitivi, parties in the most interesting places of the moment. But what really amazes is the no-charge and everyone-is-welcome code that applies to the initiative (although there is the odd occasion that requires an invitation). Someone called it "democratic design"; open for the city to present and describe the business' development through the new ideas and products scattered all over the city.

And the phenomenon has grown immensely, to the point of running the risk of "swallowing itself" as an independent actor. In order to avoid this risk, and also to supply an instrument and service for the actors in the bathrooms sector present in Milan for the design week, an important initiative has been developed. Its main promoters are Lightweb srl, consultants for projecting and design, and Studiolabo, studio for the design of communication, and the initiative itself bears the name PERCORSI di BAGNODESIGN (routes of bathroom design).

To be viewed here is a map that indicates all that happens during the fuorisalone regarding the world of lighting; an itinerary of the Milanese streets in which the light is the lead character. The map and the promotional postcards are to be found in any of the marked locations/showrooms or in the promocard points.

Furthermore there are special e-reporters (equipped with mms-cellphones or digital cameras) who will go out looking for suggestions and sentiments that give a very particular view of all that is happening. And you? What is keeping you? Go visit the events, be curious, and send us your own contribution (be it written, filmed, drawn or painted), and you could be in for a nice surprise.

map view

Print the flyer:
Front (.pdf 1,7M)
Back (.pdf 1,2M)



N.B. To see the flyer you need: Adobe Acrobat Reader.